HANSEN Garments Autumn/Winter '23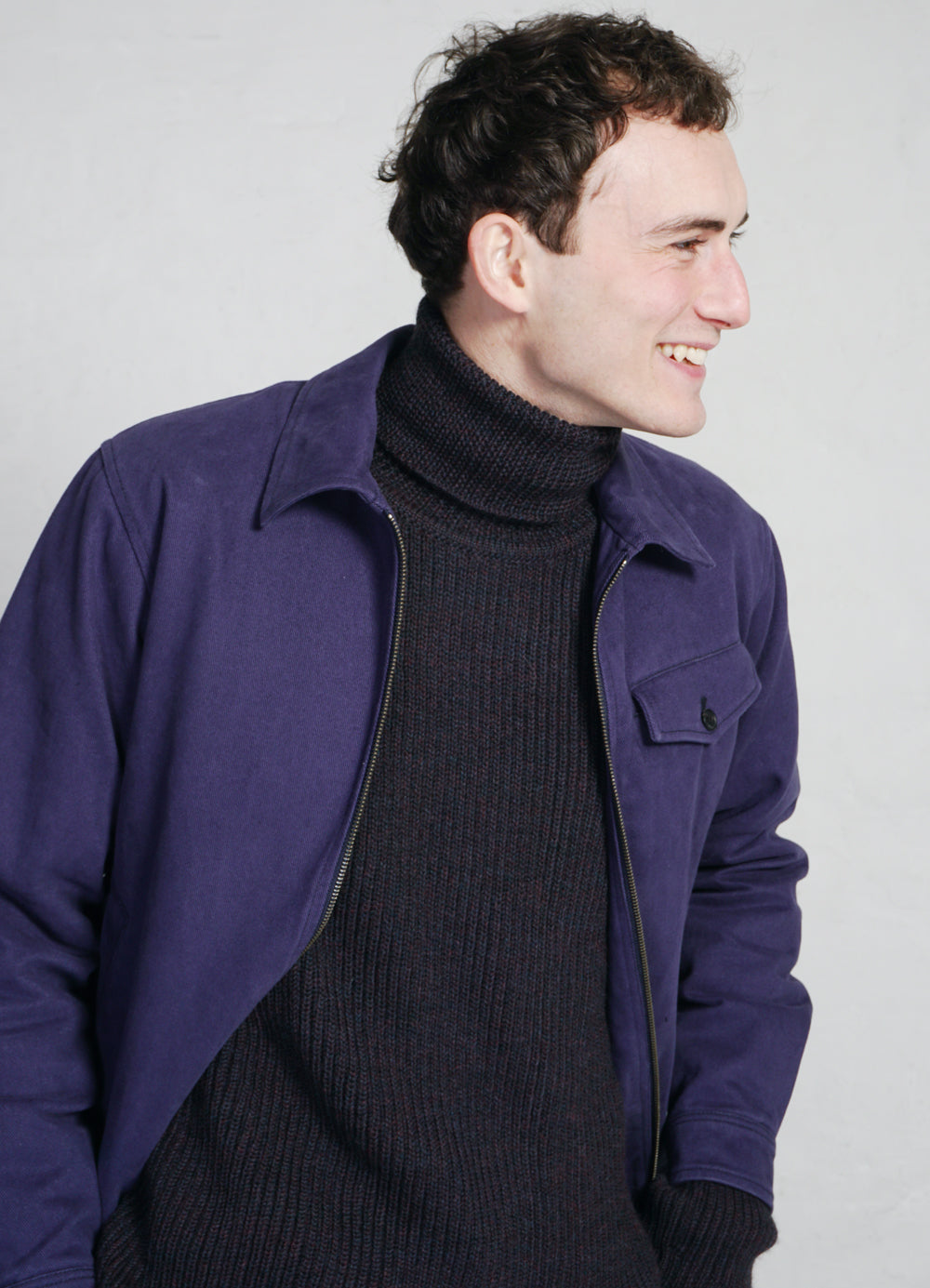 AUTUMN WINTER 2023
Turning the volume down
The AW23 collection takes inspiration from the dark Scandinavian winters, when daylight is at its minimum and colours fade into hues of blue, black, and grey. Structures and patterns are hardly visible, only lightened by the glow of the snow, moon, and stars.
Among the many shades of blue, we are reintroducing black and grey. Furthermore, a classic Herringbone, a bold folkloristic pattern in subtle colours, and a special version of denim, in indigo-dyed velvet. Fabrics are comfortably warm, brushed, and weather resilient.
The main part of the collection remains casual classic with cuts, fabrics, and colours we believe comprehend our core values, like the relaxed suiting, matching tops and bottoms and our garment dyed subtle colours. Loosely refined yet functionally robust.
As always, all garments are produced in Europe and all fabrics and trimmings are made of natural materials such as horn, mother of pearl, and coruzo.
We carefully seek out craftsmanship rooted in aesthetic values with earnestness. Historic traditions are paired with contemporary techniques, infused with soul and a drop of rational nostalgia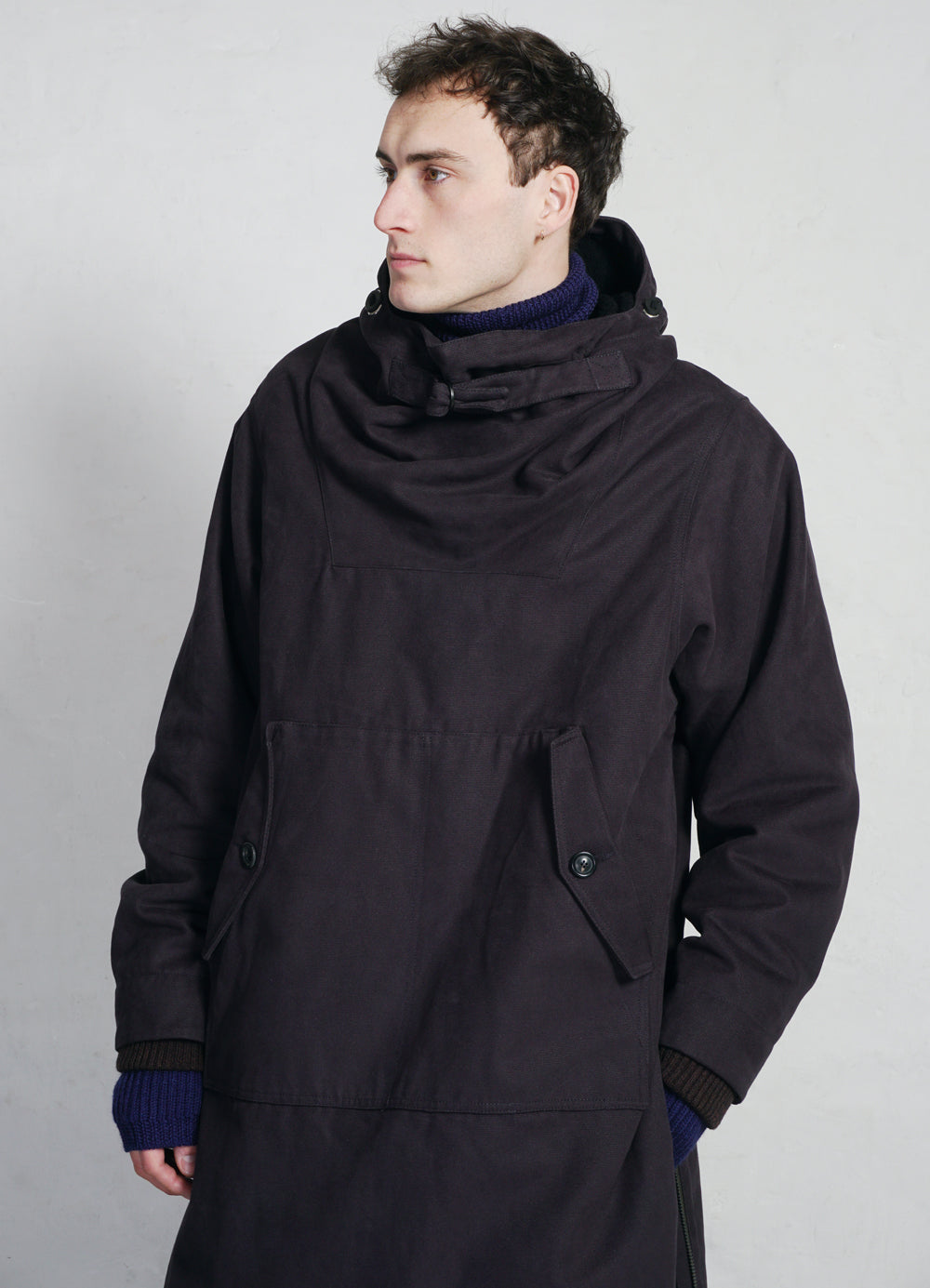 HUES OF BLUE
As we embrace the deep tones of the impending season, an alluring spectrum of blues unfolds, capturing the essence of cold Scandinavian skies and the icy expanse of Nordic landscapes.
ROALD's design is a bid to the heroic expeditions of the legendary Norwegian explorer Roald Amundsen. The knee-length silhouette, fabricated from water-repellant heavy cotton canvas, is an homage to resilience against the fiercest winters. The anorak is fully lined with a warm, dark green wool fabric, emanating a sense of shelter and warmth against the biting cold. Its spacious fit, convenient zippers at the sides, and a large double kangaroo front pocket all echo the practical necessities of an Antarctic explorer.
The ROALD anorak blends functionality with comfort, and timeless style - an embodiment of Scandinavian minimalism.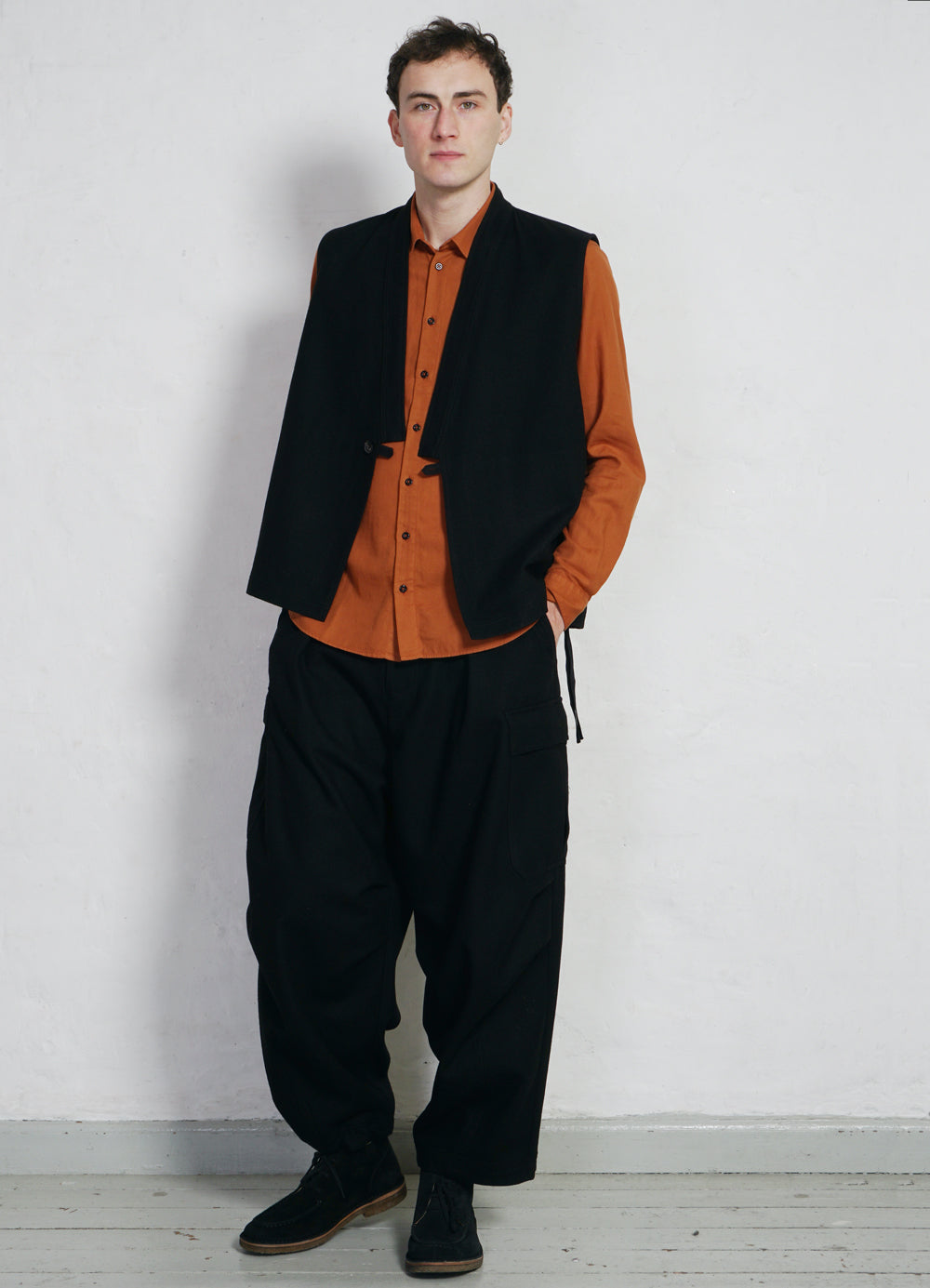 BLACK IS BACK
As we delve deeper into the season, black emerges as a colour of power and elegance, signalling its grand comeback.
Meet BENNY, an embodiment of audacious design and utilitarian functionality. Drawing inspiration from vintage military snow over trousers, BENNY's super wide cut injects a modern twist into a classic design. Accentuated by large darts at the waist, bottom hem and knees, this piece offers a unique silhouette that stands out. Crafted from a light Italian felt wool blend, BENNY is comfortable to wear, showcasing large side pockets, a back pocket, and a heavy cotton ribbon belt. The ribbon drawstrings at the bottom hem add the final touch, underscoring the attention to detail.
BENNY is the ultimate fusion of distinctive looks, superior comfort, and high-quality craftsmanship.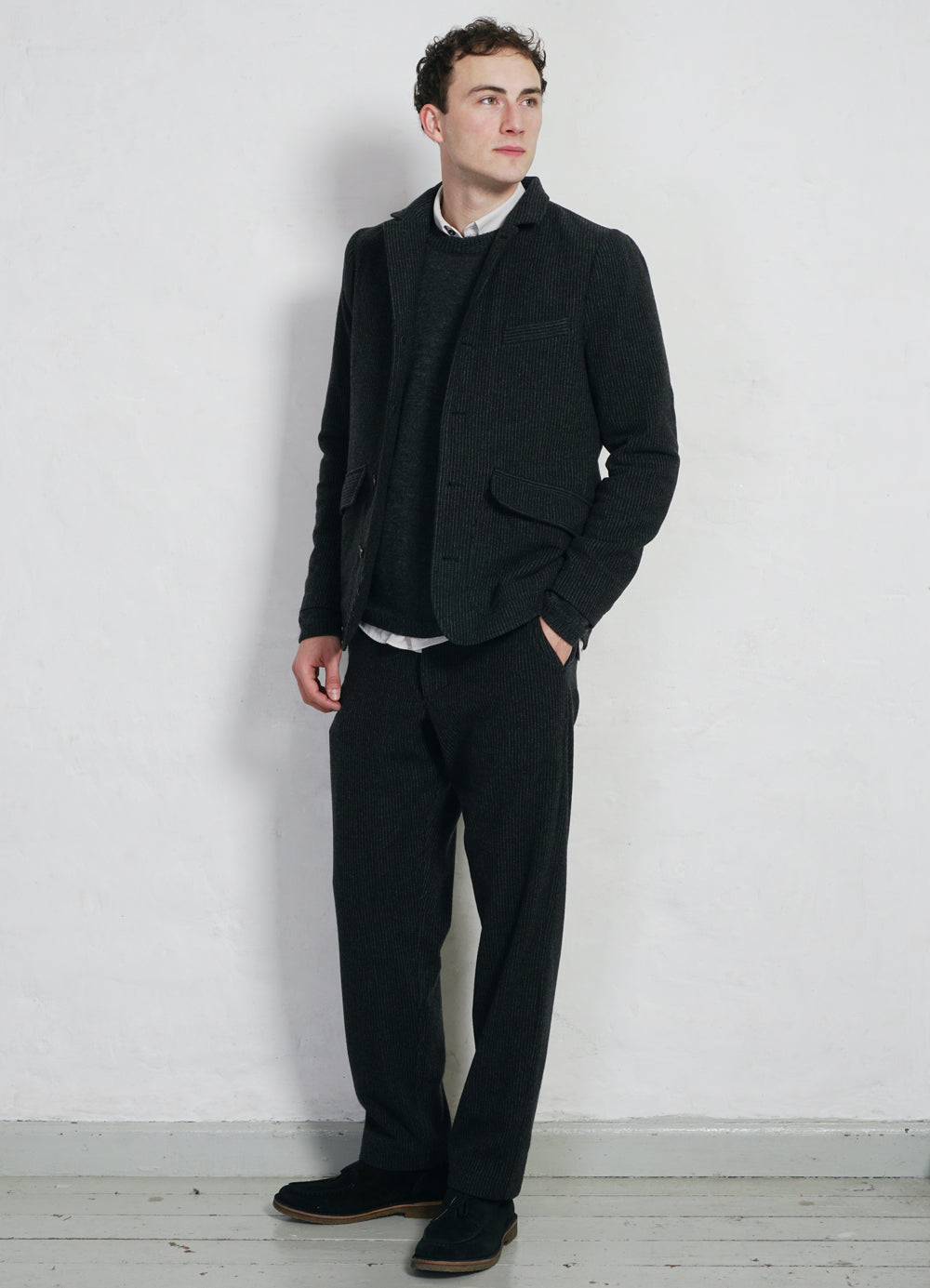 PIN STRIPE
Being an ever-classic, recurring element in HANSEN's signature designs, pinstripes make their subtle, sophisticated mark on our new collection.
Meet VINCENT, a testament to the art of relaxed elegance. Crafted in a fine Italian wool fabric, this fully lined blazer comes with a delicate pin-striped pattern, offering a light, soft, and comfortable wear. Despite its relaxed fit, it retains an air of formal charm, with its flap pockets, a welted upper pocket, an envelope inner pocket, and natural horn buttons. A blend of 80% wool and 20% polyester ensures the balance between warmth and durability. With its origins in Italy and craftsmanship from Europe, VINCENT epitomises the aesthetic synonymous with Nordic design.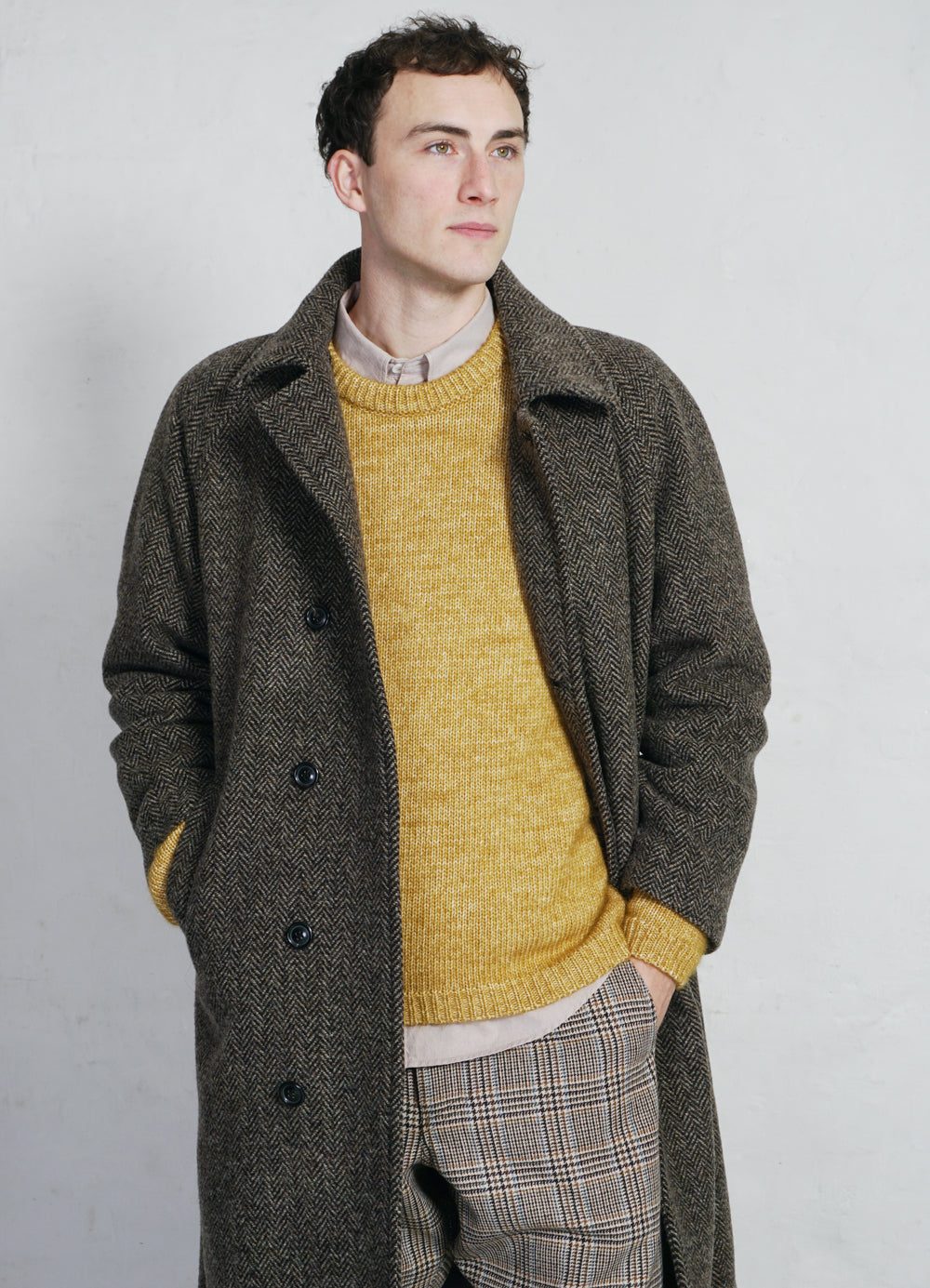 PATTERNS
The patterns of this collection focus on the richness of textures that add depth to the fabrics.
Meet TYGE, a pair of trousers that champions simplicity with a twist. Crafted from a chequered wool blend, TYGE is unique in its organic shape, with slightly twisted side seams from the knee down. This casual classic is both slightly tapered and cropped for a relaxed fit but doesn't compromise on functionality, boasting two slanted front pockets and two welted pockets. TYGE's tactile texture, a result of a tumble treatment, lends it a soft and warm feel, while the pre-washed wool blend ensures ease of maintenance.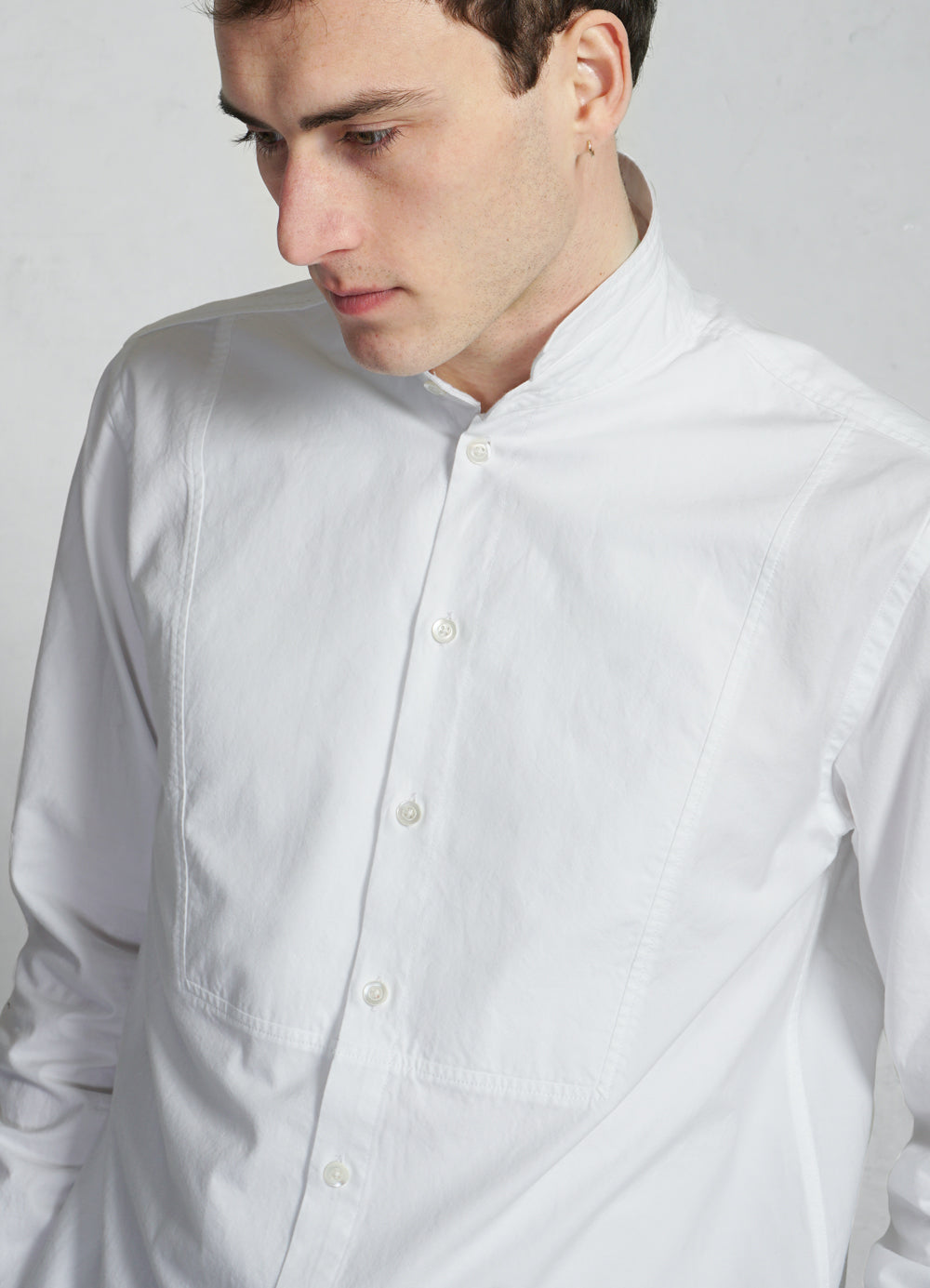 THE WHITE SHIRT
The white shirt stands as the epitome of an elegant wardrobe, a timeless element that flawlessly harmonises with darker hues for an elevated look.
Reintroducing VALDEMAR, our signature piece inspired by the classic tuxedo shirt. Crafted from 100% cotton, this shirt features a double fabric front bib that exudes an air of sophisticated charm, complemented by a high collar band and a small collar. Adorned with delicate mother of pearl buttons and garment washed and tumbled, VALDEMAR exhibits an exquisite balance of design and comfort.
This essential shirt pairs neatly with the dark pieces from our collection, expanding on the richness of any ensemble.